I'm sure most of y'all know that I sing and play in a bluegrass-gospel band, and we had the most amazing opportunity to open for
The Boxcars
this weekend at the Canton Theater.
It was incredible.
The theater is a historical institution in Canton, so the building itself is absolutely beautiful, but the real thrill was getting to be a part of such a great show!
Our friends from BlueRoad opened for them for the 5pm show, so while they were still watching The Boxcars's first show, we left a note for them on their car. (Daddy threatened to steal their hubcaps, but he decided against it.)
Also, doesn't Kate's outfit look amazing? I think so.
I really love my dress.
Mama and Daddy look pretty great too!
Anyone that performs at the Canton Theater gets to sign this wall! It felt really cool to be a part of something so huge.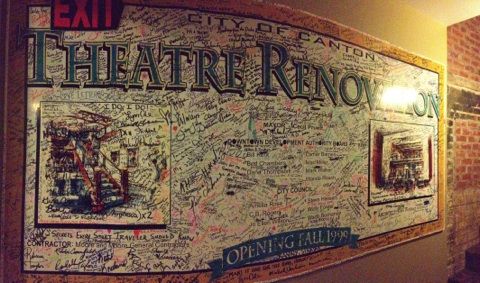 Katie took this on her phone. I completely spaced on this one and didn't snap one!
This cell phone picture from the front row taken by my aunt is the only photo of us on stage, but here's proof we were there!
Our set went pretty well, I think, and we were super pumped to be able to see The Boxcars live! They've got amazing harmonies, fantastic musicianship, and great personalities. They were such a treat to get to talk to, and they were so very encouraging to us as well. That's one of the best things about being a musician; you get to get paid AND see a free show!
Kate shot this from the balcony...
And I shot this from the sound booth...
We hung out by the sound man and watched the show...this board was ridiculous.
After the show, the lead singer Keith Garrett took a picture with Daddy and "Flat Stanley" who has been hanging out with the Bruce Weeks Family Band as part of my second cousin's 2nd grade project. Keith was a great sport about it.
It was such a wonderful opportunity for us, and I'm so thankful to Tim Moxley of
Shady Grove Events
for putting this show together!