I finally cleaned off my bathroom counter, so I had to post a picture to instagram and prove it. It was seriously a disaster zone. What's worse is this is the main bathroom, so everyone had to see my mess when they came over!
I love my little chipped tea cup that I use to wrangle loose chapsticks. Seriously, they end up all over the house, so once a week or so, I gather them up and put them back in one place. I really like that it's a woman leading the team of horses! Daddy bought a set of Blue Willow dishes for me at a yard sale, and this chipped cup was in the box. Obviously it wasn't part of the set, but I couldn't get rid of it. It's just too sweet.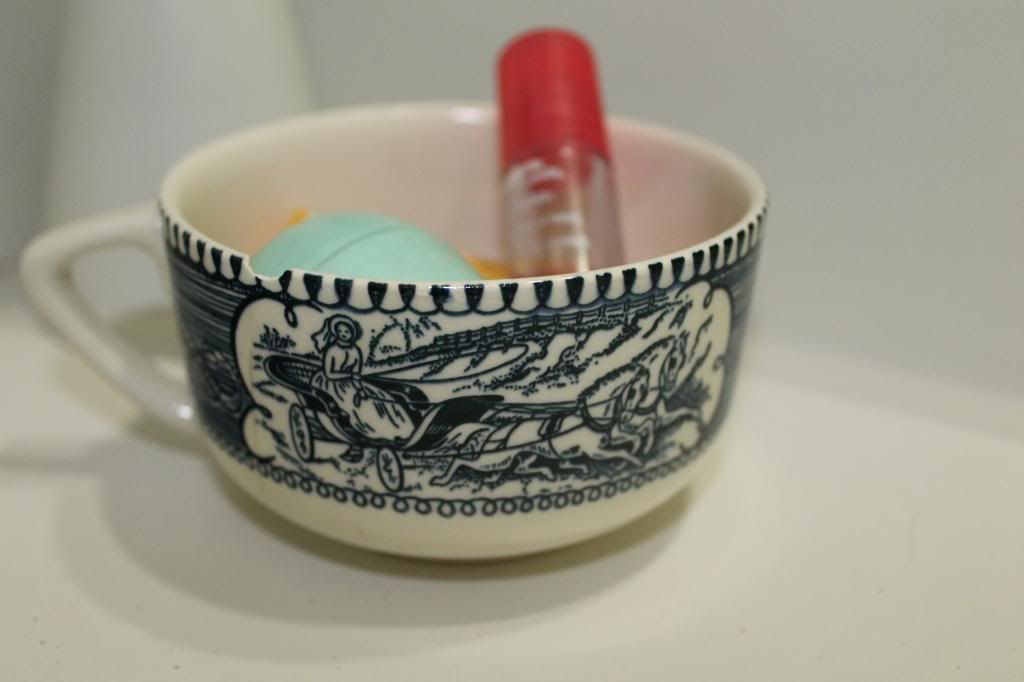 This quirky "planter" houses a tiny gnome that my friend gave me and a pothos plant. Don't worry, the gnome can swim. The plant seems to do best in actual dirt, but I've rooted several pothos plants in water, and they seem to do okay long-term. I really love these plants. They'll live forever because they're impossible to kill, and they purify the air! Plus, no bathroom is without the need of some air purification. Let's just be honest with ourselves.
If you'd like to make something similar, this is what you need:
flat-topped candle holder
pickle jar
goo-gone
E6000 glue (or any kind of glass glue like Amazing Goop)
spray paint
Use the goo-gone to clean your jar. Paint your candle holder whatever color you'd like (or not, whatever).Glue the clean pickle jar to the top of it.
TA-DAH! Easy peasy. These would also make great terrariums as well! Of course, mine is a little weird and might not be everyone's taste, but these would make great modern canisters (if you painted the pickle jar lid the same color as the base) or candy jars, etc. The possibilities are endless!
Send me a photo if you give it a shot! Please link back to this post if you blog about your project, please!