Much like Shakespeare's Puck, my Puck suffers from a bit of gender confusion by other people. She doesn't look particularly girly, and Puck is kind of a gender neutral name. So, to avoid the inevitable, "Oh, he is so crazy!" comments that force me to respond with, "Yes,
she
is," I decided to fix the problem all together.
I bought a feminine-looking bandanna at Walmart for a dollar and tied it around her neck. She looked super cute for five minutes until she figured out how to untie the knot. Here's my tutorial for how I manage to keep it on her for more than five minutes at a time and it only requires sewing one straight line!
First, I find a cute bandanna I like. You could use any fabric you want, but it is less work to use a bandanna because the edges are already hemmed. I found these at Walmart for a dollar each. I don't bother washing or ironing them before I sew them because Puck will have it wrinkled in two seconds anyway.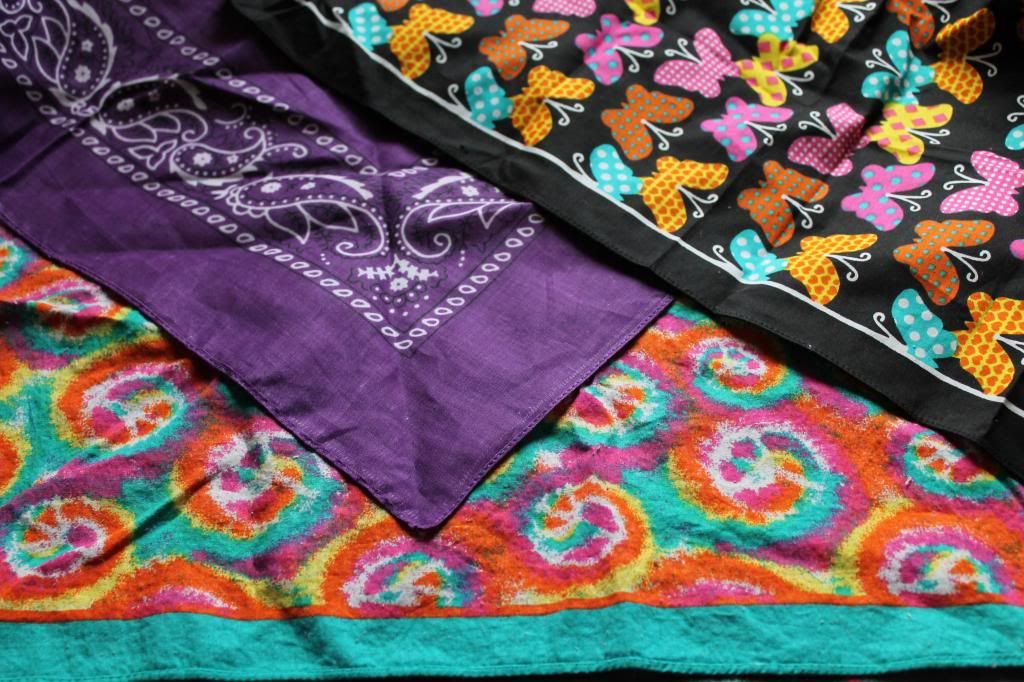 Measure from the bottom corner towards the middle. For Puck, I measure 13 inches.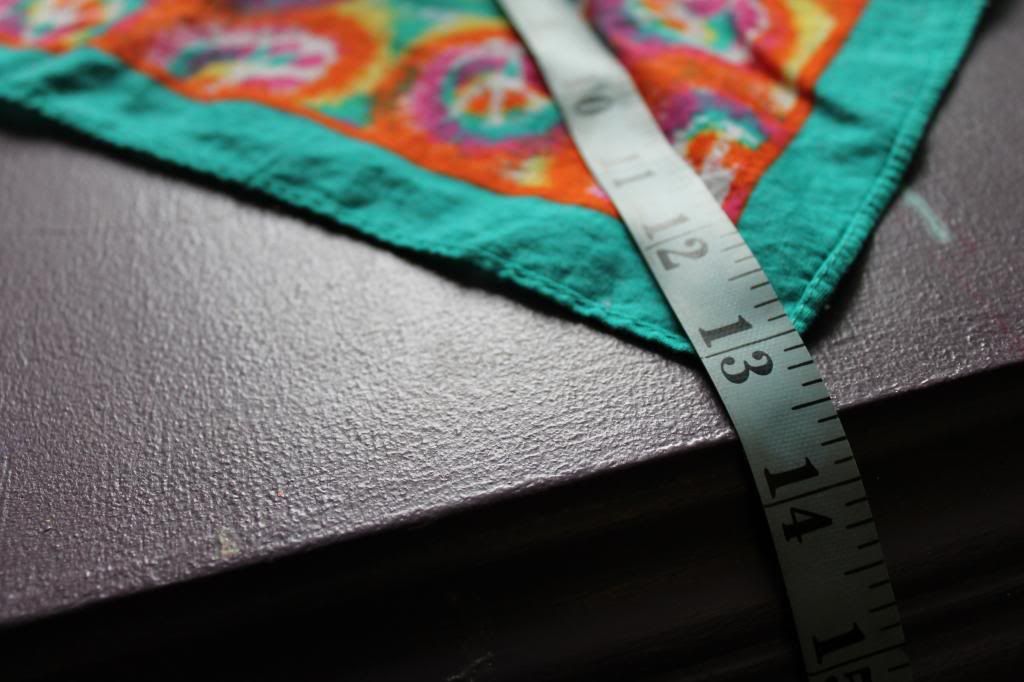 Then I take my ruler and draw a straight line where I will cut the bandanna.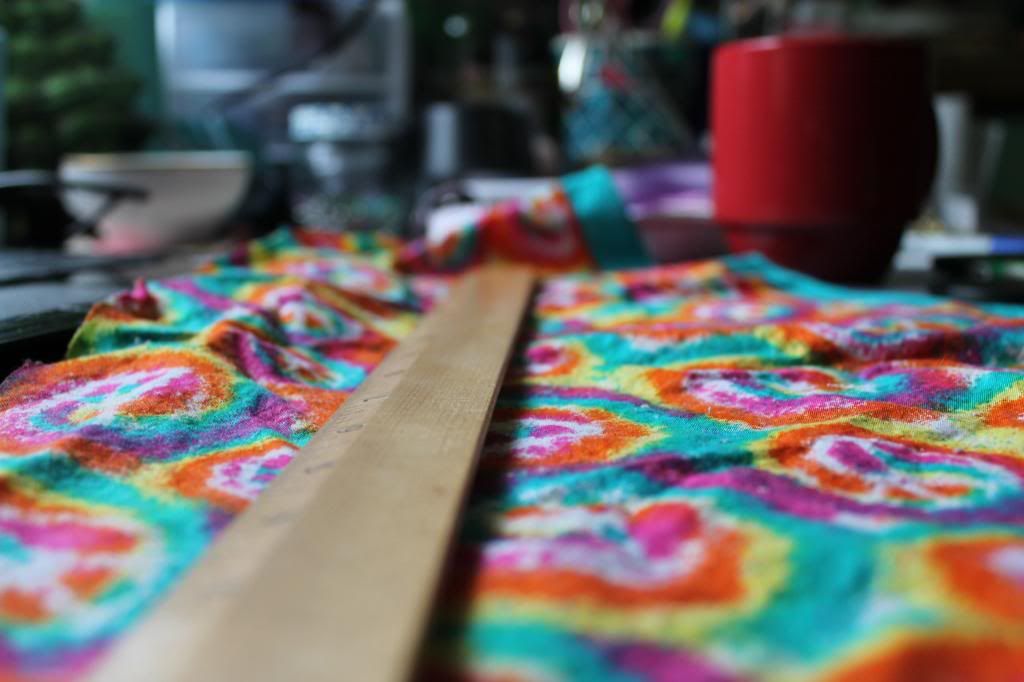 Once the bandanna is cut, fold over the top piece a couple of inches. Be sure to fold over enough so that the dog's collar will fit inside the pocket. Sew a straight-ish line to form the pocket making sure you strengthen both ends by using the reverse option on your sewing machine.
I use a zig-zag stitch because I think it's a little stronger. Plus, I like zig-zags.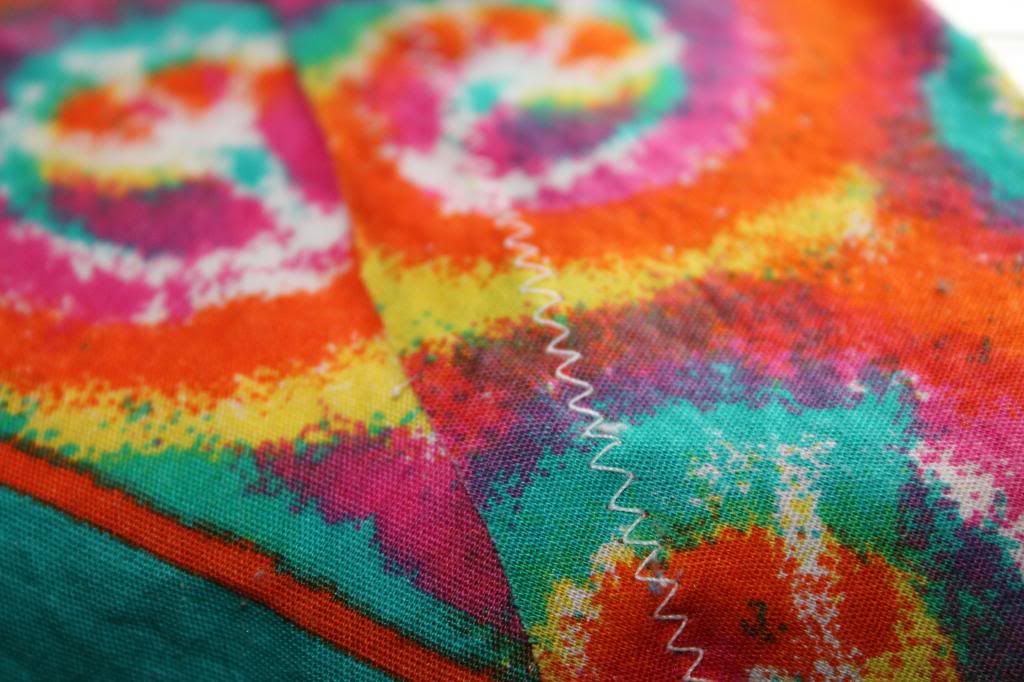 Once I Puck's bandanna is finished, I almost always make a smaller version for Ophelia. The steps are the same just scale down the size! I generally use the opposite corner that I cut off of the bandanna when making Puck's.
I just hope your sewing machine doesn't decide to do this: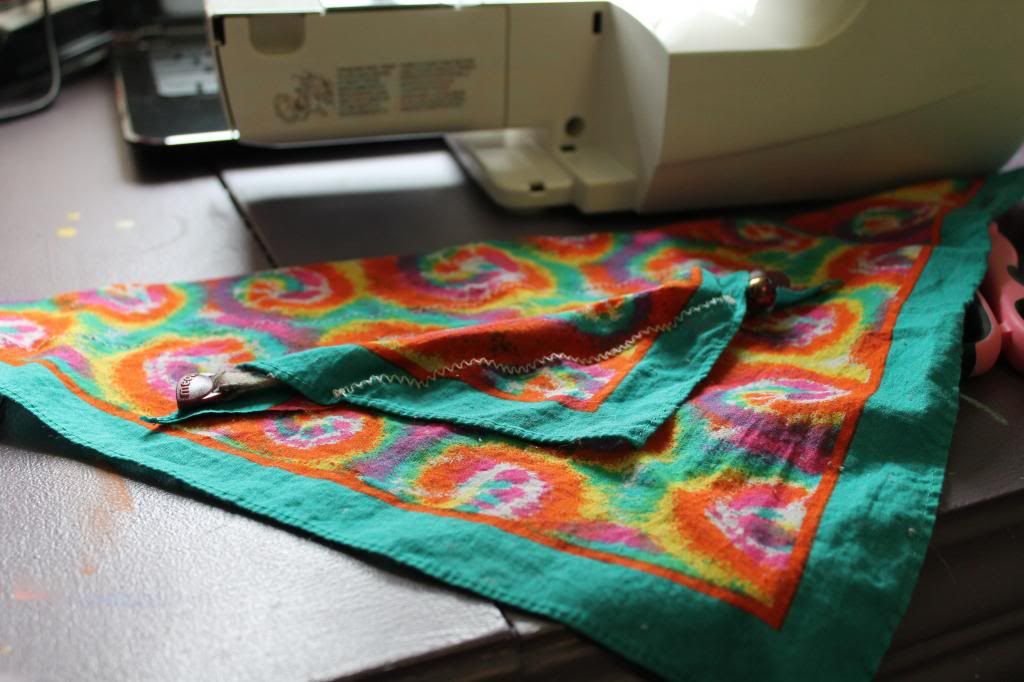 Once I've sewn the pockets, I thread the collars through the pockets and put them on the girls. There's always a little extra material left over that I tie into a knot around Puck's tags.
It might be a little silly to make Ophie a bandanna to wear, especially since you can barely see it because of her fur, but she looks so cute!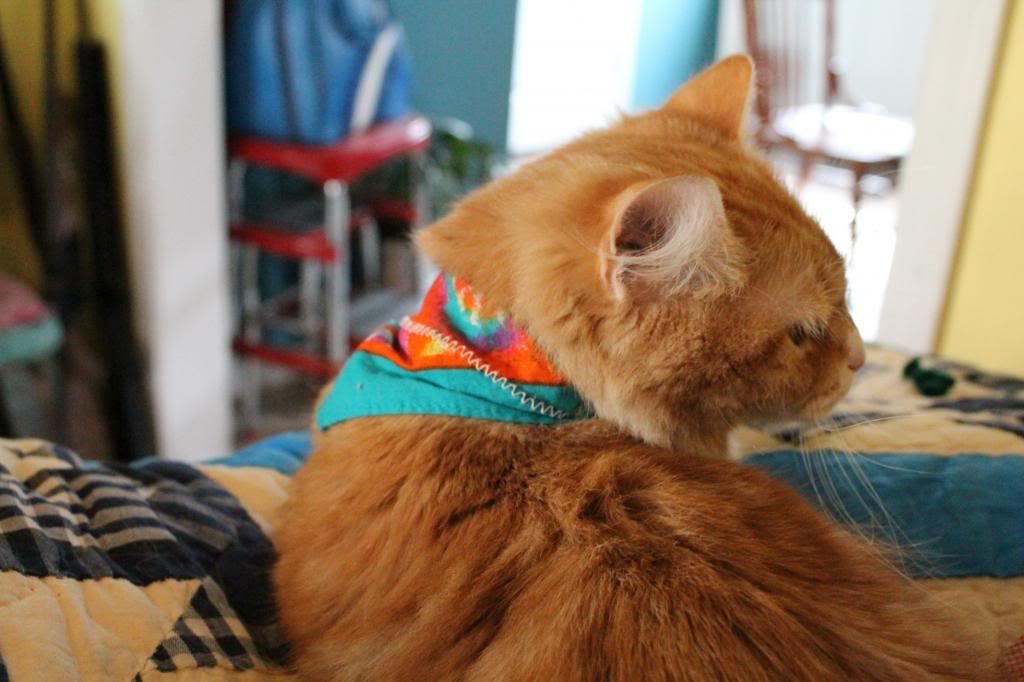 Look at Puck's pretty face!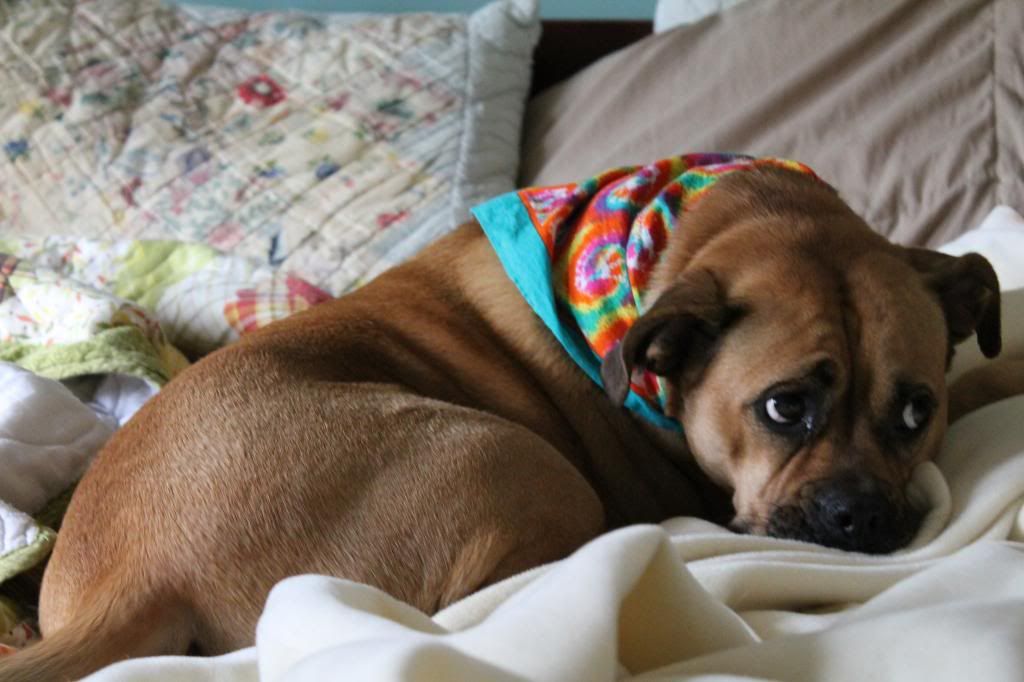 And a less pretty face.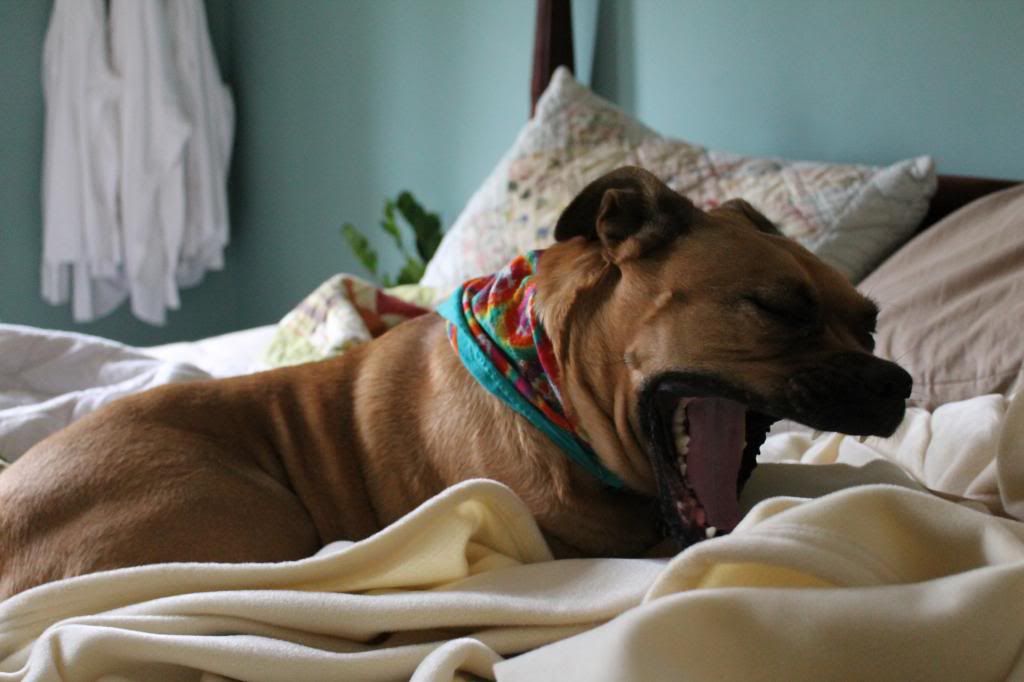 Puck loves her "necklace" as we call it. When we take it off of her to give her a bath, so gets so upset!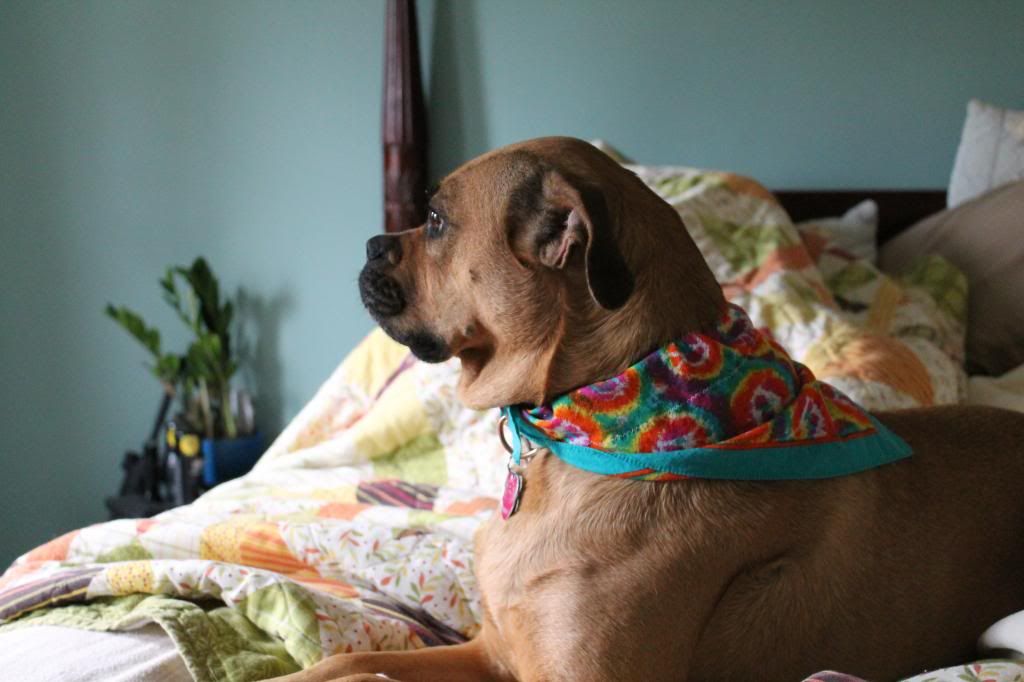 Ophelia will wear the same bandanna for several months, but Puck generally gets a new one every few months. Sometimes I replace it because it gets so dirty, and other times it gets replaced because it gets torn from her being a wild thing outside. If it's too messed up to wash and reuse, I just throw it in the rag pile to use as a duster or something.
I'd love to see y'all's version of these bandannas, so please send me a link. Be sure to link back to this post if you blog about your version. Happy sewing!