Jared and I are getting ready to lay our new floors down in a couple of weeks. Yesterday, we thought we'd get a jump on some of the prep work and start removing the baseboards in the kitchen. So now, our kitchen looks like this: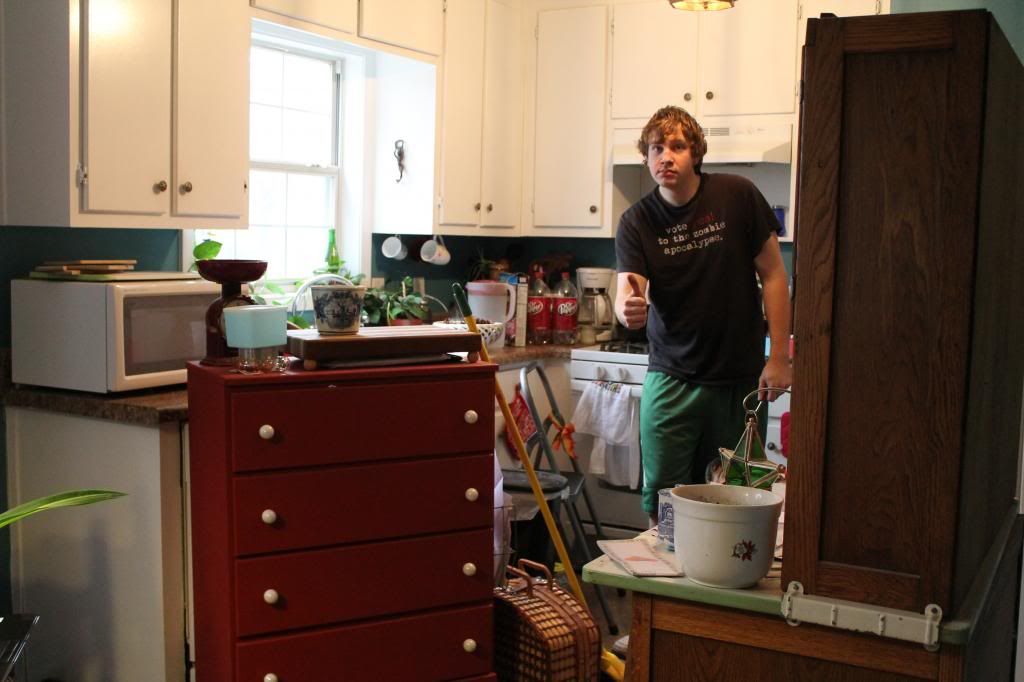 "I'll pretend to be super excited about this project, okay?"
Jared's face is killing me.
We shoved everything back up against the walls of the kitchen in the meantime, but I'm super excited to get started on this project! While we're putting in the new floors, I'm planning on painting the kitchen a lighter blue since I'm afraid the dark wood floors and the darker blue will make the kitchen too cave-like.
I love this kitchen from
Flower Patch Farm Girl
. Her counter space is very similar to mine in terms of size, so it's good to have inspiration for what looks like a normal-sized kitchen, not just the kitchens in magazines.
I love the subway tiles, and the pop of blue in the middle. My kitchen will have more all around color, but want it to look so clean and uncluttered like this one.
This kitchen from
The Country Farm Home
caught my eye because of the skillets. Y'all know how I feel about skillets. I'm brainstorming ideas for a way to display my skillets once I get the kitchen painted, and I love how they're displayed here.
I love the open shelving in this photo! I'm not sure where I could pull it off in our current kitchen, but it's definitely an inspiration! And look at the chandelier! I definitely want better lighting in our kitchen.
This is probably closest to what our kitchen will look like when the floors are in and the walls are painted. I would love to install shelving around the edge of the room someday as well. We have an oak pedestal table similar to this one, but I hope to paint it...eventually.
I love the red light above this table in the photo below. I found a similar one on etsy, so I'm thinking of buying it and hanging it over our table. I also love the open shelves, the pops of color, the giant plant, the precious kitty cat, and I love whatever is happening with the fireplace. GORGEOUS.
It's so strange to me that most of the photos that I'm drawn to are mostly white, but I'm terrified by the thought of all white in my own home. Maybe it's because I know how disgusting a housekeeper I am at times. I'm thinking a minty blue/green for the walls with white and red accents will be a perfect blend of color and contrast for the two of us. I am so excited to start this project, I can't stand it!