I really love tote bags. Seriously. Thin ones can be produce bags, heavier ones can be used to carry your library books, giant army-sized tote bags can double as my purse...if any of y'all have seen how much crap I cram in a purse, then you'll agree.
I especially love free bags. The only problem is that sometimes they have a giant logo plastered on them. I mean, I appreciate quality healthcare, but I don't want to carry this around all day:
So, what to do? GET CRAFTY!
It just so happens that a regular piece of printer paper was the perfect size to cover the entire logo area, so I traced around the paper on a piece of burlap and cut it out.
I don't really understand the obsession with traditional monogramming--why is the last initial in the middle? It looks so weird to me.--but I do like individual initials, so I drew out a T.
If you have a more complicated letter to draw or you'd just like a particular font, I'm sure you could find it online and trace around it. I used a green sharpie to trace around my T.
I am kind of obsessed with teal and turquoise, so I picked my current favorite shade and started filling in the T. Be sure to have something under your burlap because it's full of holes. I'm sure y'all have enough common sense to figure this out without me telling you. Too bad y'all weren't at my house to remind me of it.
I wanted to give it more of a border, so I went around the edges with the green sharpie to make it bolder.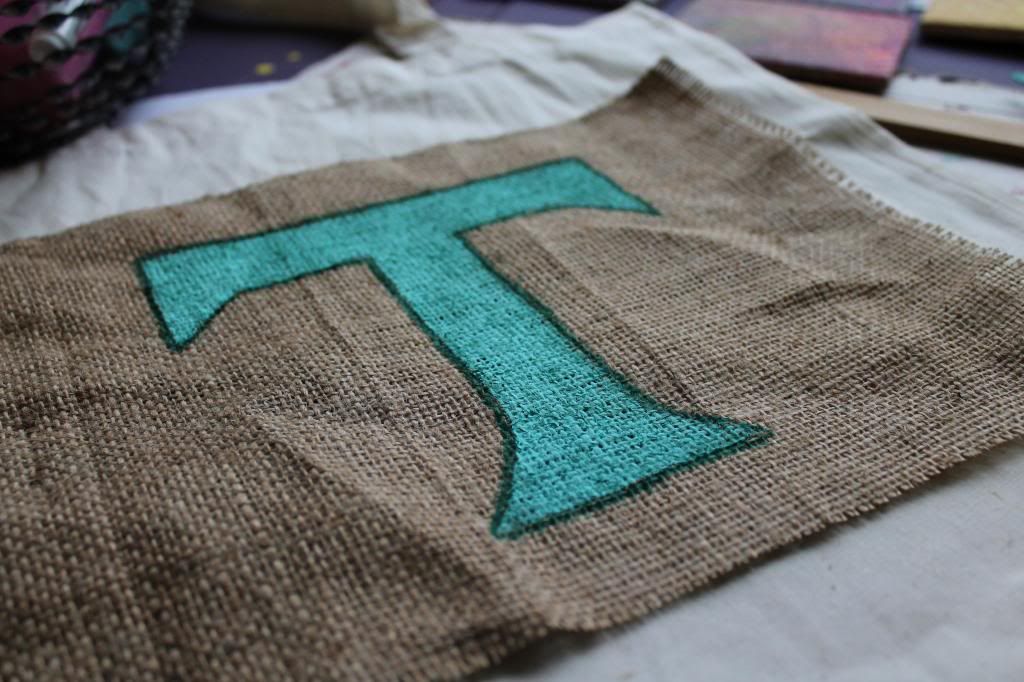 I probably should have ironed it better. Or at all.
I bought some no-sew fabric adhesive stuff from Wal-Mart to avoid sewing. Sidenote: my last sewing project was a sweater quilt that I gave my sister for her birthday. She found 4 stick pins sewed
inside
the quilt.
The iron-on adhesive has a paper side and the other is the adhesive. I followed the instructions and ironed it on with the paper side up first. In hindsight, I probably should have added adhesive to the middle section as well.
It was at this point that my iron started leaking water everywhere, so it took longer for the strips to stick, but once they did, I peeled off the paper backing and placed it on my bag.
Giant water splotch!!!
The instructions said to iron it on by holding the iron in one place for 8 seconds at a time. Because mine was wet, it needed more time.
Once it was properly attached, I ran downstairs and asked Jared to take a picture of me and the new bag.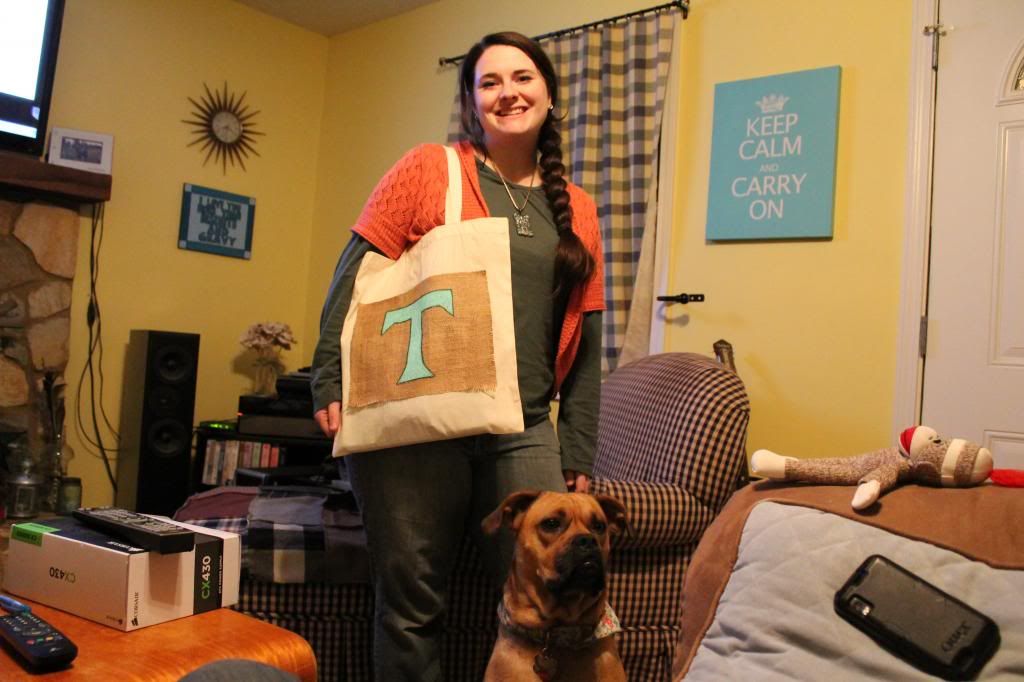 Excuse my face. and my messy house.
I also used it the next day when I carried it to church as my songbook bag. After church, I asked Katie if she'd take my picture with my danger-cute "new" bag.
Unfortunately, we were interrupted the first time.
The burlap will fray some, but it should stop when it hits the no-sew stuff on the back. I think it just adds to the rustic-ness of the bag.
I'd only recommend using this method on a bag that is for lightweight use. The burlap would be more secure if it was actually sewed on, so that might be another way to go for bags that are more heavy duty.
If any of y'all try your own version of this, please let me know! I love to see what other people come up with!