The weather lately has been nuts. Last week it was so warm and wonderful, but it became cold and wet pretty fast. That's just Georgia weather for you. I had already meal planned green and healthy stuff for this week, but with the weather being cold and gross, I couldn't handle it. I went to the store and bought some potatoes for this soup! It's super easy and wonderful.
So here's the skinny on what you need for the soup. (Just a heads up, you might not be skinny after you eat this soup. But it is super tasty!)
3 lb bag of potatoes
6 cups of low-sodium chicken broth (See? It's a healthy soup now.)
1 onion
1 tablespoon of minced garlic
1/2 cup of butter
2 cups of half and half
2 cups of cheese
Tony Chacheres seasoning
bacon
Optional ingredients: sour cream and chives
This soup will serve at least 8 people, so it's perfect for a get-together or if you'd like to freeze some for later. Note: it does not freeze "pretty" because of the half and half, but it still tastes delicious!
First, peel your potatoes.
Getting artsy with the potato peels...
Chop the taters up into cubes.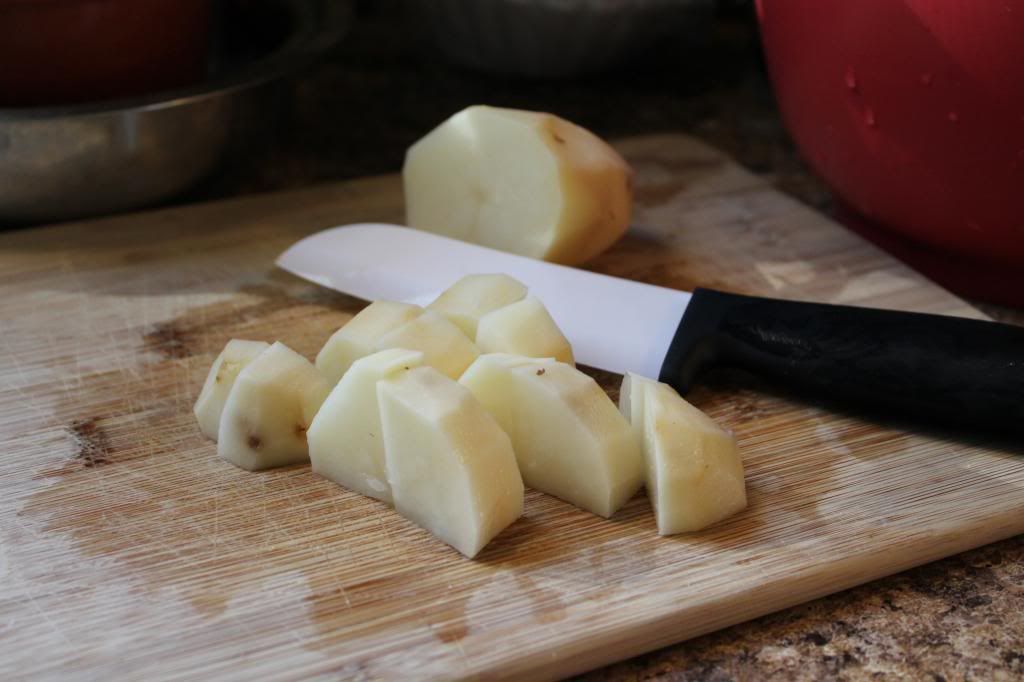 Just in case you've never seen cubed potatoes before...
Chop up your onion into small pieces and add it to your crock pot along with the garlic.
Add your chicken broth and butter.
Now, put the lid on your crock pot and cook on high for 6 hours. This really just depends on how fast your crock pot cooks and how done you prefer your taters.
Once the 6 hours are up, smush--yes, smush--the potatoes so they are less chunky. As you can see in the photo below, I have a fancy smushing method.
After the potatoes are smushed, put the crock pot on low and add the half and half as well as the cheese.
Fry up the bacon and crumble it into the soup. For this much soup, I fry a whole package of bacon. I also sprinkle a liberal amount of Tony Chacheres on top because that stuff makes everything taste better.
And this is the only photo I managed to snap before my friend Melissa and I sat down to eat the soup and watch The Bachelor. For presentation's sake, I normally add more bacon and cheese to the top, but I couldn't wait to catch up on what Sean was up to with that house full of ladies!
I hope y'all enjoy!