Since it's Christmas Eve, I thought I'd share some photos of my Crafty Day friends from our Crafty Christmas Potluck Party. I freakin' love my Crafty Day friends. I talked about how much I love them
here.
This group is so very special to me and I love any reason to celebrate with them. We generally have at least two parties a year: The Crafty Costume Party (yes, the name needs to be capitalized) and the Crafty Christmas Potluck Party. We might have an extra celebration thrown in there for a birthday or whatever, but those are the main celebrations.
As much as I love the costumes and the weird food of the fall party, I love the Christmas party so much more. The Crafty Costume Party is so much fun, but it's a lot of stress for me. I have to borrow decorations, find costumes, make food with ingredients I NEVER have, and our small house is filled with a ton of people...the stress is worth it because it's such a great time, but sometimes it takes me a while to calm down afterward.
But the Crafty Christmas Potluck Party...it's the best. It's generally pretty low-key. I already have a ton of decorations up (For the Crafty Costume Party, I put up and take down the halloween decorations with in a couple of days of the party, so there's an added stress), everyone brings a side dish and whatever gifts we want to exchange, and we just enjoy each other's company. It's family time.
Last year was our second Christmas party, but to be honest, I don't remember the first one and I didn't take any photos.
Here
's a look at last year's party.
The guest list this year was a bit smaller than last year's. Some friends had to work, vacations, etc. but it was still a fun time. We had a very special party guest this year: Oberon!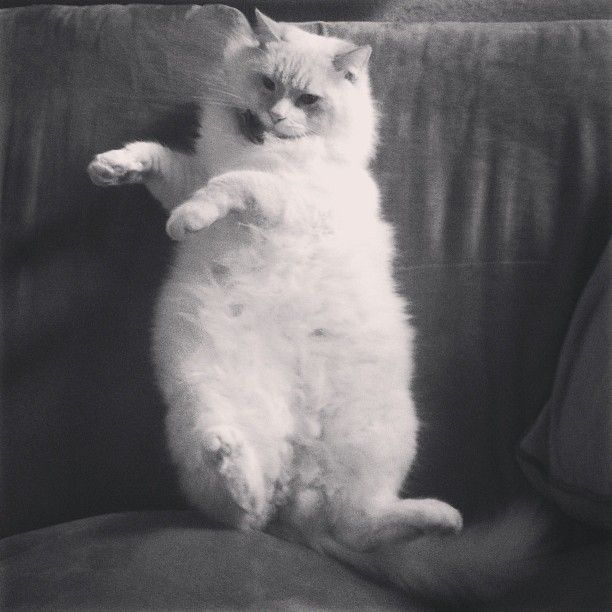 He attends every Crafty Day function in a bow tie. He's one classy cat.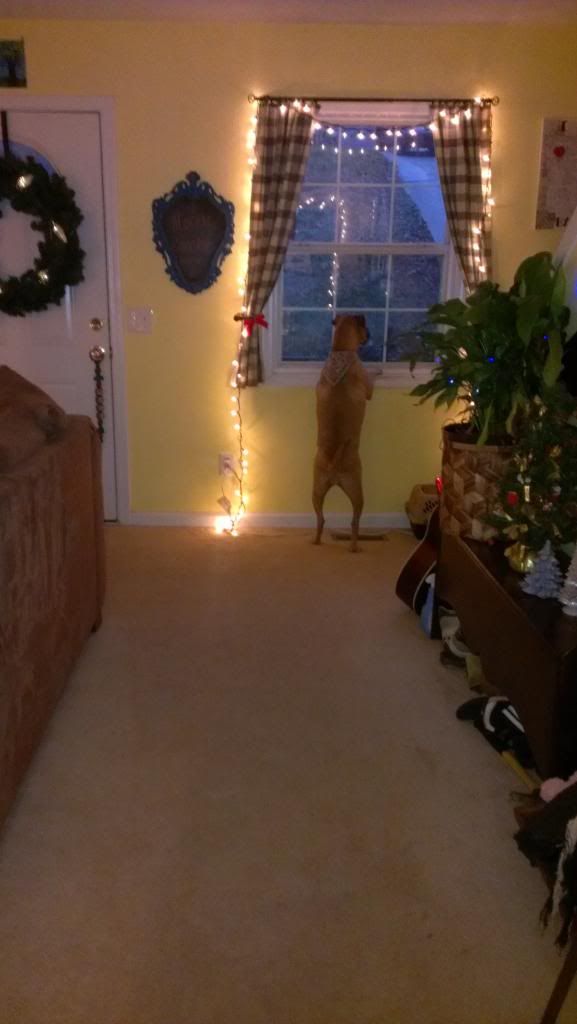 Puck anxiously awaited our party guests! She loves parties!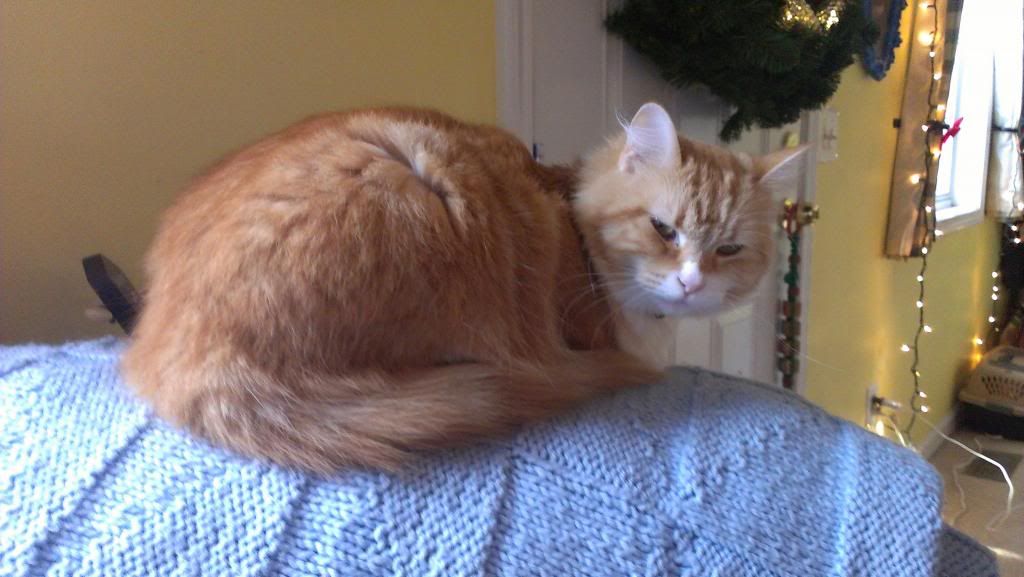 Ophelia does not love parties.
This year I set the table with Blue Willow dishes Daddy bought for me at a yard sale, along with plates we got for our wedding. I also used four great green glasses that my Nanny gave me before Jared and I got married. They were a gift from her mother at Nanny's wedding, and she passed them on to me. What better time to use them? My wonderful mother-in-law gave me some other Christmas glasses, so I mixed those in as well.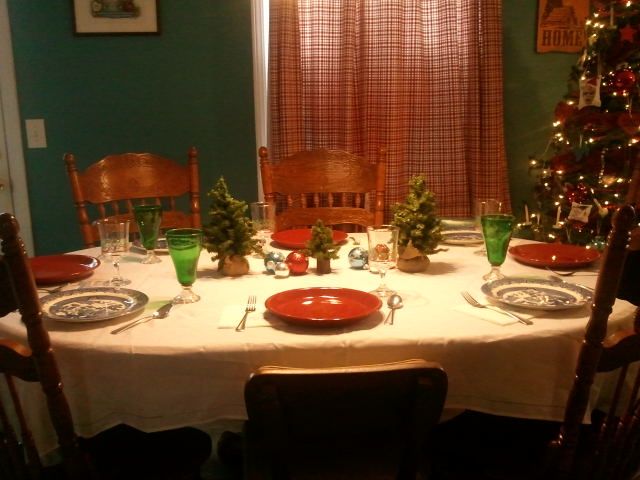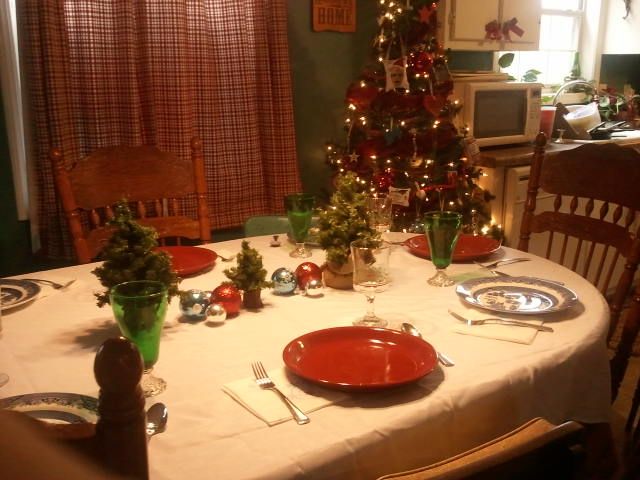 I thought the table was simple, but I liked it. Also, in a dream world, I will have a table that was actually made to seat so many people. I made a ham, along with a creamy chicken and rice soup. Others brought a green bean casserole, potato salad, corn, fruit, and cheesecake! I also made Oreo truffles covered in white chocolate and sprinkled with crushed candy canes for dessert! As for beverages, we drank the two house wines of the South: sweet tea and Coca-Cola.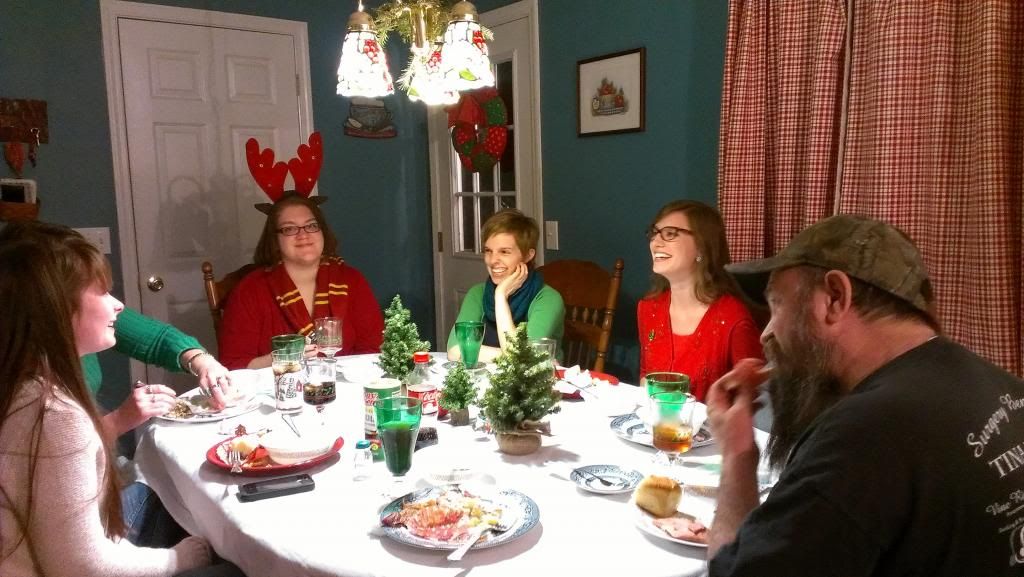 Here's the one moment I managed to catch from supper. Everyone's not even at the table!
After supper, we retired (sounds fancy, right?) to the living room (fancy moment ruined. If only I had a drawing room or something.) to open gifts (for cigars and brandy? much fancier.).
Handmade gifts are the best. Everyone gave each person the same thing, so we all ended up with a hand-painted bag, a microwaveable heat pad with lavender oil in it (IT SMELLED AMAZING!), awesome earrings that were made from funky fabrics, a hot cocoa gift bag and some ornaments and other Christmas-y goodies. I missed everyone that couldn't make it, but I hope it works out better schedule-wise next year.
I love these ladies so much!! What a blessing it is to have friends like these.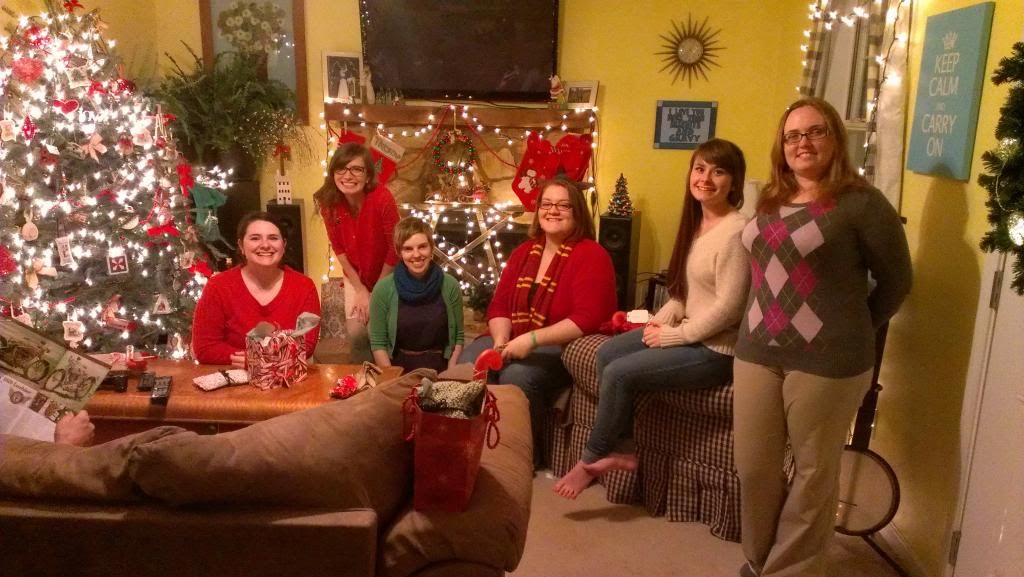 Merry Christmas, y'all. I hope your home and heart is filled with Christ's love during this season and everyday of the year. I love y'all.