It's November and it's the time of year where everyone starts thinking of all the things we have to be thankful for, so I thought I'd talk a little about something I've had on my heart to discuss with y'all. I've mentioned before that every Tuesday we have Crafty Day at my house. Traditionally, Crafty Day has been an excuse to get together and shirk our responsibilities while eating large quantities of Ramen. We sometimes craft while doing those things. Sometimes we don't. I cannot tell you how much Crafty Day has come to mean to me. Every Tuesday my home is filled with laughter and food, music and fun. Crafty Day is a sacred event in my home.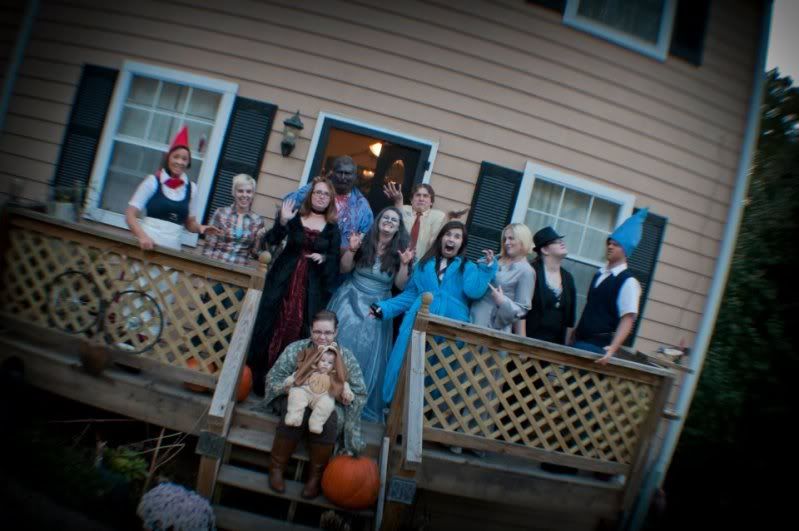 This is some of us on Halloween at the Crafty Costume Party. What a motley crew!
Crafty Day started as a day-date between me and my dear friend Jess. During our summer break from college before we both got married and had houses, we got together once a week and hung out. We made a wine bottle chandelier, a light fixture out of Dixie cups, mosaic windows, paintings and all kinds of things. We raided thrift stores, our toolboxes (and Daddy's toolbox but don't tell him.) and our own creative minds to come up with cool ideas for our future homes and upcoming marriages. School started back and Crafty Day was a fond memory of summer. Months passed and eventually Jared and I found a house. Once it was all set up and he moved in, I wanted everyone to come see the house and hang out. Soon, Crafty Day was reborn. I love that. I love that we all get together. I love that we're all still in each others lives because of Crafty Day. I love that I can hear Connie's and Ashley's laughter from upstairs. I love that I can hear Kim and Christina carrying on about Doctor Who. I love that I can hear Kate's singing and Josh's guitar playing from outside. I love that Jared and I get to be a part of such a great group of friends. I love the idea that when we have children, they will be a part of this too.
Some of these people I've known since I was a little kid, others I met in high school, a few I've only known since college, but it's like we're all old friends. Sometimes Crafty Day is the only time I see them. Now that we're all mostly out of college and spread out across a few counties, Crafty Day is even more important to me. Jared, Katie, Kim, Christina, Melissa, Ashley, Connie, Robbie, Jared F., Jess, Josh, Hannah, Heather and little D-Man are the family I choose. Everyone doesn't always come every week, but they are always welcome and I hope they know that. I hope they know how much I love each one of them. I hope they know they are my life-long friends.
We've come a long way as a group of friends. Babies have come along, weddings have been planned, family issues have arisen, etc, and there have been blessings and stresses along the way. I think that's why I love this little group. When something good happens to one of us, we're all happy, and when something sad happens, we're all sad. We've cried together out of sadness and out of happiness. We've laughed until we've cried, and we've been with each other when we needed to cry. I think that Crafty Day is a little like my own Ya-Ya Sisterhood (minus the excessive drinking and depression spirals). I sincerely believe that God put these people in my life and they will be in my life for a long time. I hope we're still having Crafty Day when we're old.
As adults (I'm considering myself an adult even though I don't ever feel like one.) we don't always take the time to do things that make us happy, to be with people that fulfill us, to pursue friendships like we once did. It's worrisome to think that had the idea of Crafty Day not come along, I might not be as close to these incredible men and women as I am. I think back to those wonderful summer afternoons in my shady garden with Jess building weird contraptions and coming up with new crafty ideas and think about what a great impact that has had on my life. We didn't even realize it at the time. That's what is wonderful about life. Sometimes blessings just sneak up on you without you even knowing.
I know it's kind of cliche to talk about how you're thankful around November, but I'm truly thankful year-round for these fantastic people that have come into my life. I'm a better person for them being in it. If any of y'all read this, I hope you know I love you. See y'all on Tuesday.