Emily Neuburger of
Red Bird Crafts
does a weekly post that she calls Treasured. This is from her website:
Each Wednesday I post about some sort of treasure I found during the past week. It might be thrifted or found on a walk or whispered in my ear or discovered on a dark shelf in the basement. Something. Anything that makes me feel lucky and thankful. It doesn't necessarily have to make its way home with me - it just has to be noticed. The idea is for it to cost very little and feel very big. After all, this isn't about acquiring new things; it is about paying better attention to the world around me.
She encourages her readers to share their own version of Treasured on their blogs, so here is a treasure I found recently.
Things are still kind of unorganized in the office, so I decided to clean and organize my desk.I found a book that I didn't recognize and when I opened it to see what it was, this is what I found.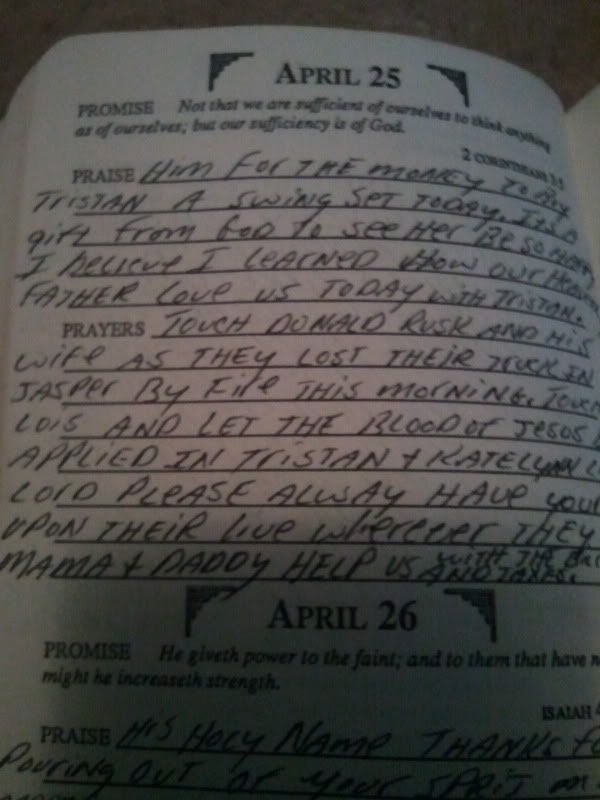 The book was Daddy's prayer journal from the early nineties. The text reads:
Praise Him for the money to buy Tristan a swing set today. It is a gift from God to see her so happy. I believe I learned how our Heavenly Father loves us today with Tristan. Touch Donald Rusk and his wife as they lost their truck in Jasper by fire this morning.Touch Lois and let the blood of Jesus be applied in Tristan and Katelynn's lives and please always have your way in their lives wherever they go. Remember Mama and Daddy. Help us with the bills and taxes.
When I read that entry, I couldn't help but cry. God has blessed me with a wonderful set of parents that always encouraged me in Christ, in my music, in my art and in my life in general.
Seeing this entry made my day and even now it is encouraging to me.
I know that this blog is primarily about my business, but it's also about my life and why I am the way I am. God has blessed me with his grace and his love and I am forever thankful.