I posted a picture of what little progress I had made on my mosaic project in this post:
http://greenandcrafty.blogspot.com/2010/04/today-was-best-day-period.html and I have finally made a smidgen of progress!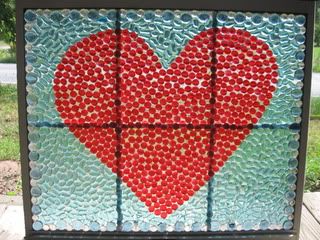 Katie helped me get all the little turquoise-colored pieces in place and then I glued them all down while catching up on Dexter episodes. (that is the coolest, most disturbing show ever, btw.)
Anyway, aside from that, I've also been working on making some jewelry and things such as that to sell on etsy and in a booth that Kate and I are setting up when our family goes to Kentucky next month. I've got some pretty good ideas about what I want everything to look like and things such as that, so I'm pretty excited about that. We're going to a bluegrass festival, so I don't know how much crafty stuff we'll sell, but I figure our chance for sales dramatically increases when we show up with things to sell. I'll post pictures of everything, of course.
As soon as I get pictures of everything and the listings on etsy, I'll post a link to our etsy page. That's on the agenda for next week!
As always, there are wedding crafts to be finished, but I was feeling a little burnt out, so this break to work on other things has been pretty nice.
Oh! and as a side note, Kate and I found these cute kitties in a bush by the Hardees in Adairsville. The white one is Oberon (from
A Midsummer Night's Dream
and the orange one is Ophelia from
Hamlet
. Ophelia is mine!
PREPARE FOR CUTE KITTY MONTAGE!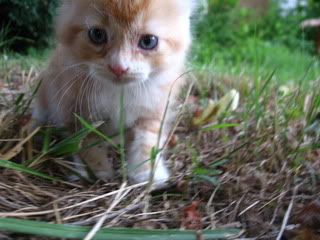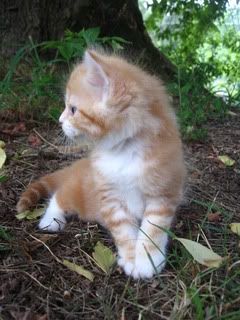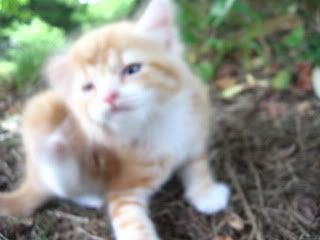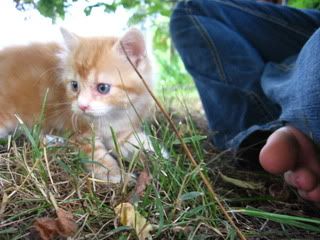 As always, some of the pictures aren't resizing correctly. It's a shame because these kitties are too cute.