I have such crafty plans. Here's a list
1. Finish my fake stained glass project. Jess Wal (
purpletoedfairy.blogspot.com
) has a boyfriend and he has parents. They replaced their windows and donated four of them to us. She and I both started window projects and while she finished hers, mine is woefully unfinished. I decided to make a fake stained glass window to hang in the kitchen above the sink. I ran out of glass globs while working on it with Jess, so this is what it looked like for a while.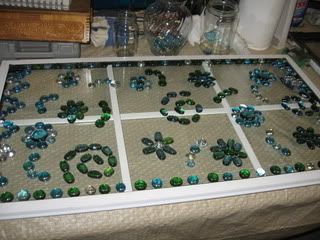 keep in mind, I've never done anything like this before.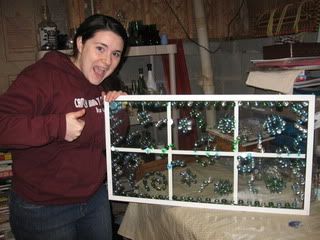 Craftiness is not always beautiful. Case in point: my face.
I bought more glass globs and attempted to fill in all the empty places. Once I did that, what little bit of designed I planned disappeared.
I'm planning on using black grout to fill in the gaps and hopefully the design will manifest itself once again.
2. I really want to make this rolling tool chest.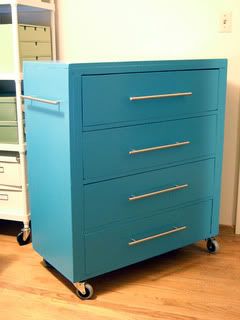 The tutorial is at
http://www.craftynest.com/2009/07/old-dresser-rolling-tool-cabine
t/
I recently discovered this website and I'm already obsessed with it. I need to have a tool chest like this in Crafty Corner. Jess has already agreed to help me make it.
3. Wedding crafts.
Jared and I have a wedding site now, so everyone can check it out and sign the guest book if you'd like!
http://www.theknot.com/ourwedding/JaredTuttle&TristanWeeks
Our wedding colors are blue and yellow. I'm thinking that I'm going to make half the centerpieces and use flowers for the other half. I'd like to use cobalt blue wine/alcohol bottles and create lights out of them. It's an easy craft that I've made bunches of times and it's cheap, so i'm excited. I just need to get started on them!
4. Mini bottle tree.
I really want to make a miniature bottle tree to sit in my kitchen window. I've been collecting bottles for a while now, and Jess recently donated (no exaggeration) about 200 mini bottles. I'd like to actually do something with them!
5. My quilt.
I'm not much of a textile crafter. I can't work a sewing machine, so I've been sewing by hand. It's taking a while to say the least. I'd like to eventually finish it though, so I've got to keep plugging away at it! I'm using materials from the scrap bin at Walmart and an old holey sheet donated by my grandma.
There are so many more things I'd like to make and do, but this list will suffice for now. What are your crafty plans?