After much talk and attempts, the brooch bouquet is finished! Well, almost. After my dress is altered, I'm going to wrap the stem in the fabric remnants. Last week on Crafty Tuesday, We made a second attempt at this bouquet. The first attempt left me very frustrated and the second attempt was only mildly better. With the first attempt, I attached floral wire to each brooch and ran them into a piece of round mesh. That was a horrible idea. The second attempt, I just attached each brooch to each other and made two halves of a bouquet. This was a better idea than the first, but it was still not a great idea because the two halves ended up forming more of an oval shape. This time, the ever-lovely Jess Wal was in charge of attaching the brooches and it is now in a circle!!! YAY!!! The success is due to the fact that she was working from the middle towards the outside of the bouquet. Anyway, enough talk! Pictures!!!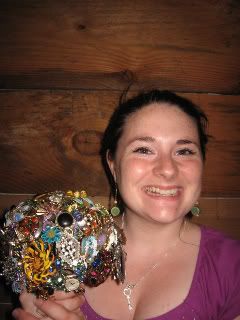 I don't know what's going on with my hair.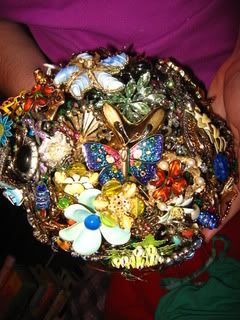 This is the top view.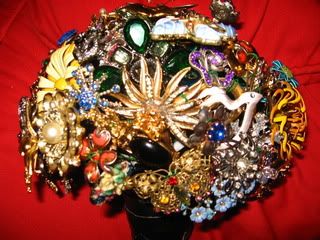 The butterfly near the bottom was Mama's. She's really awesome.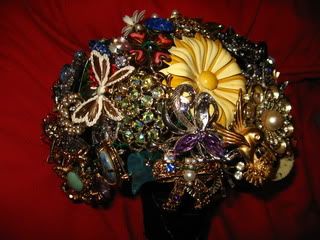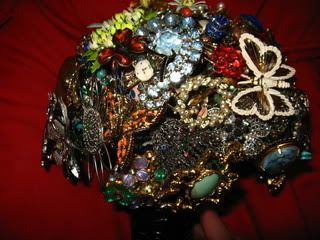 The little clock pin was donated by my grandma, who thinks this is going to be the tackiest wedding in history, but loves me anyway. The blue pin it's attached to was given to me by a wonderful lady I met while singing on the road.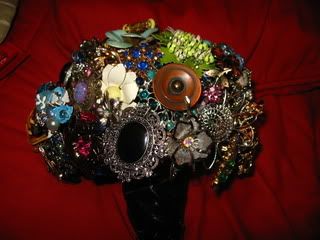 My sister gave me the black and silver one.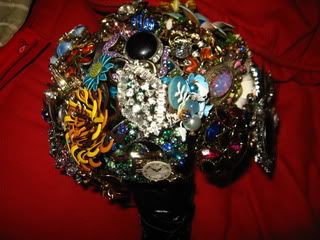 This project is so exciting for me because there are so many wonderful people who contributed and I love them all!!!