sorry for the blog silence these days. I've been really busy trying to get wedding stuff together, making a crapton of button trees that will serve as centerpieces, making felt flowers, trying to find a FREAKIN' PLACE TO HAVE THE WEDDING, and basically crafting myself to death. It's an interesting way to go.
Now, that I'm taking a minute to breathe, I finally took pictures of my latest mosaic piece! I finally finished that stinkin' heart window that's been sitting around for forever! The last post was pre-grout and now it's POST-GROUT! YAY!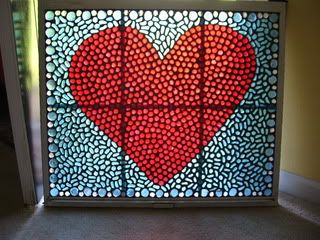 I was pretty happy with how this one turned out. I'm hoping to get it hung in the kitchen at some point. The very first one that I made was difficult to figure out how to hang without building a frame around it, so I've decided to sell it and hang this one where I was planning on hanging the first one. Here's what it looks like just to remind you.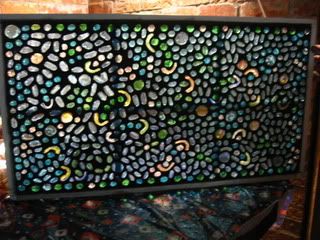 If any of you are interested, let me know! I'm hoping to use the proceeds to buy Jared's wedding band!
Anyway, I've also been talking about making a rolling tool chest. I've posted the link before to the original site, but now I can't find it again. Basically, the idea is to take a dresser and converting it into a tool chest, I've been on the lookout for a wood dresser for a while now and my daddy, who is awesome, found one for me for 5 dollars (FIVE DOLLARS!) at a yard sale. Now, the catch is, this dresser is not solid wood. It's made out of press board or something like that, so I won't be able to do any major sanding. Here is the before shot: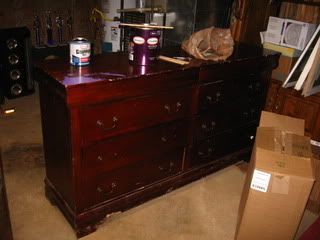 and here is the color I'll paint it when I'm through with it! I will use actual paint rollers as opposed to the stir stick I used to dollop and spread the paint on for the picture lol.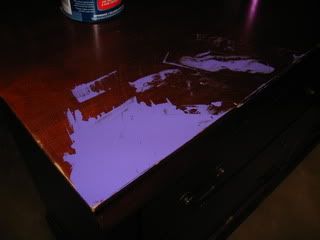 I'm super pumped about this project because then I'll have a place for everything as opposed to just dumping everything out on the table and leaving it there for weeks.
I also found some wicked sweet chairs at my Nanny's house and she gave them to me! THey belonged to my Great Grandma Gladys. They are awesome and I'm using two of them at the kitchen table, one as my desk chair and one that has some stuffing hanging out in the basement. Look at how gross they were before!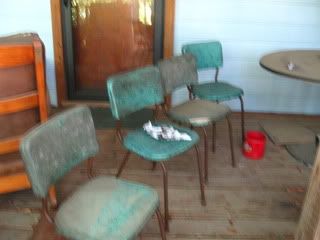 Sorry the picture is so blurry.
and here's the design on them after I cleaned them up!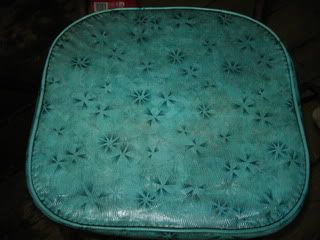 I've also got plans to weld a metal king or queen. Jared and I haven't decided what it should be yet, but I'm going to make it kind of a mixed media statue with a scepter made of glass in one hand and a small mosaic piece in the other... It's still in the developmental stages, but it's gonna look awesome.
*as always, I'm sure the pictures won't re size until probably next week, but feel free to click on them and check out my photobucket. Thanks!*