I am a creeper on Craftster. For those of you that don't know, Craftster is a forum full of crafty people posting things they've made and sharing how they did it if they'd like. (the link is in the sidebar!)
It's the coolest thing you've ever seen. I was showing Jared some of the stuff that people have posted and he remarked, "Wow. Girl forums are a lot nicer than guy forums." (Craftster is not just for girls, but there is a great deal of women on there.) Apparently, his car audio forums are full of meanie heads.
Anyway. I've been seeing all of these altered puzzles being posted and they are so cool. Basically, the premise is you take a puzzle and remake each piece so that is an independent piece of art and then compile it all together again.
I decided to give it a shot since there is next to nothing on the walls at the house in the way of art. Any excuse to be crafty!
Here's what it started like: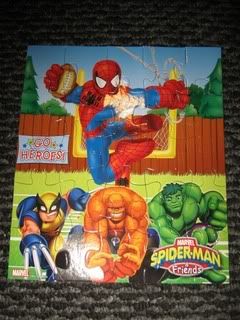 Spiderman and Friends to the rescue! I don't understand why they're playing football though.
I traced the shape of each piece on a different kind of paper and cut them out. After I covered each piece, I made some homemade modge-podge and modge-podged my puzzle together. My pieces didn't fit together as well as I would have hoped, but I have since bought an exacto knife, so next time I'll be more precise.
Once the glue had dried, I added a bunch of stuff and made a background to put it in a frame. Unfortunately, I broke the glass in the corner of the frame because it was too thick to fit, but oh well. I've got a coupon to Michael's for 60% off a custom frame given to me by my friend Alicia, so I'll use that.
Anyway! Here are the finished pictures! I'll post a few because sometime the flash made everything weird and it's hard to see everything in one picture.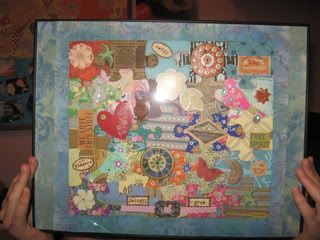 Notice the crack in the bottom left corner?
and here's one where you can see the detail a little better.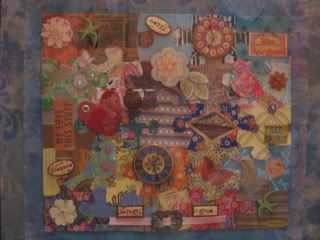 Well, maybe you can't see the detail much better, but there's no flash spot!
I showed my friend Kim Evans, who is awesome, and she said, "My eyes don't know where to focus!" I guess that's true.