I'm making a ton of felt flowers lately. My sister's best friend Whitney is going to her senior prom tomorrow with her boyfriend Dallas. Some of her friends raised enough money to send him back to Georgia for the prom, so this prom is a big deal and she asked me to make the flowers for her corsage and his boutonniere. I made a few so she would have options. They've all got pin-backs on them, so that she can either attach it to her elastic corsage band or to his lapel, depending on what she wants to wear. Here is a picture of her choices!
I mentioned in a previous post about how I'm making all the flowers for our wedding. I've decided I am insane, but I'm working hard on them. I've got 37 down and working on a total of 105. That makes each bouquet at about 15 flowers.
There is a ton to do! Luckily, it's not very hard to make the flowers; it's just time-consuming. Every night I've been trying to make at least a couple, so I'm just going to keep making them until I've made enough for my six bridesmaids and one groomslady!
My colors are blue and yellow, so I found some yellow and blue felt in differing shades. I found a template online for flower shapes and cut out approximately 2109834 different flowers shapes in different sizes. Then I used different embroidery stitches around the edges, added some beads, buttons and floral wire and made flowers! The flowers with blue base shapes are for my sister's bouquet. She's going to wear a yellow dress as the maid of honor, so I wanted her's to be different. The yellow-based flowers are for the other bridesmaids and the groomslady! I'll post a few of my favorites.
I apologize in advance for the poor quality of these photos. My sister is the photographer in the family!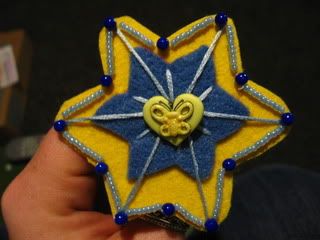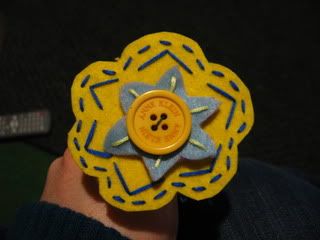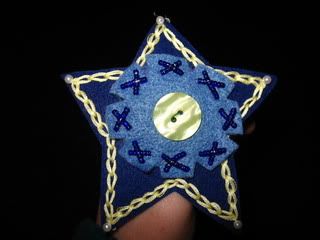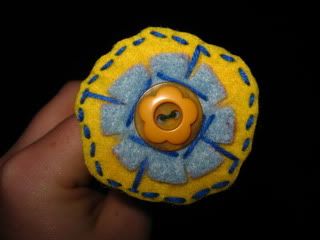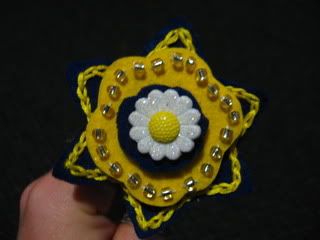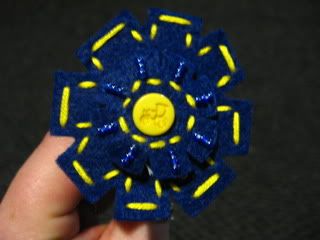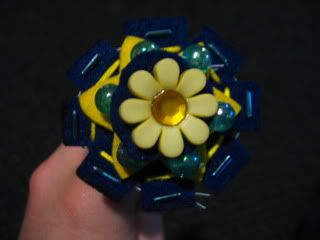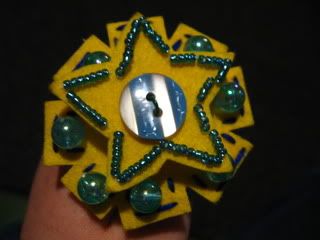 and here is one of all the flowers together.
To see all the flowers, go here!
http://smg.photobucket.com/albums/v363/to_shut_kime_up/felt%20flowers/
I can't make it link-y, so just copy and paste in the browser!
Some are better than others. Most of the uglier ones I made in the beginning and gradually got better at it, but I'm just going to spread out the less attractive ones throughout the bouquets, so no one gets stuck with the sad ones. I'll be sure to keep everyone posted on the progress!
Also, I'm working on my brooch bouquet and will make a post about that soonish!