I may have found the dresser for my tool chest project! Unfortunately, it's still at Goodwill.
Jared and I were out celebrating Valentine's Day and on the way home from the Atlanta Botanical Gardens, we stopped at Goodwill. This was my suggestion. I love Goodwill. Anyway, the dresser was there and it's solid wood and with some work, it could be a very awesome tool chest. Hopefully, it'll be there for a few more days. Jared's Jeep isn't conducive to moving large bulky pieces of furniture. I also have plans and money(yay!) to buy some grout to finish my window. I also bought some really cool looking vases and bottles and other things to make totems with, so yay for craft supplies!! I needed to find some colored glass to add some variety to the totems. I've got a metric crapton of clear glass, but very little colored glass, so score!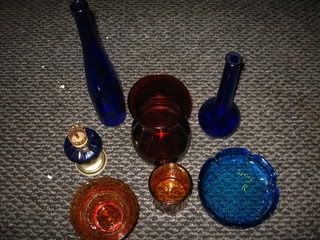 If you'd like to donate any colored glass for my crafty projects, let me know please!!
I made Jared's Valentine's present, but because I'm an idiot, I didn't take any pictures of it. I was inspired when I was going back over my journals and found large quantities of poems that I wrote while in a hormonal haze. I made a scrapbook page for the cover and typed up all the poems. The collection is entitled:
A Short Collection of Really BAD Poems: Inspired by You, Penned by Me.
He seemed to like it!
Jared gave me a beautiful Gardenia bush and a silver chain for a necklace that broke and a really nice heart locket. I tried taking a picture of it, but they weren't coming out right, so I gave up.
The rainforest exhibit at the Gardens was awesome and the orchid display was beautiful so on the way home, we bought an orchid. Hopefully, I won't kill it.
Anyway, this post didn't really serve much of a purpose other than to say that I'm making plans (I'm forever making plans). I was told by my friend Kaley that I needed to update, so I'm updating. Hopefully, I'll actually have a project to post soon!
Hope your Valentine's day was as awesome as mine was! I'm blessed to have Jared in my life and I hope that everyone will be so lucky as to find that person that makes them happy like Jared makes me. Happy Valentine's Day!