I love crafts. Obviously. I also love my friends. One in particular is made of awesome: Jess Wal. She is the amazing woman who came up with Crafty Thursday over the summer.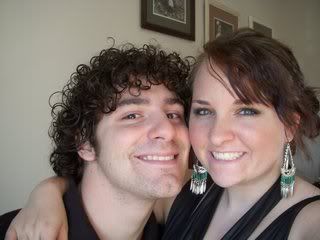 The beautiful Jess with her cool boyfriend Jared.
This project is straight from her genius mind! It's a bottle chandelier!!! This is one of my favorite crafts!
First off, we found a grill grate. (Actually, we had to ask Daddy if we could have one of his. He said we could have ONE.) I took the giant bolt cutters that I used for the bottle tree project, and while Jess risked her fingers, I cut up the middle, keeping the circle intact. We pulled out all the spikes we created and arranged (and rearranged) bottles on the spikes several times until we liked the configuration. We then attached some chain to the chandelier base with four C-hooks. Then we wove some white Christmas lights throughout the bottles and hung it up in a tree in my garden.
and VOILA!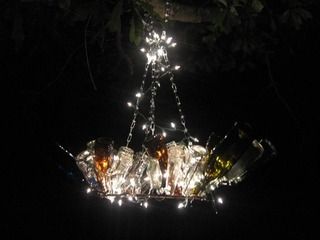 Pure awesome.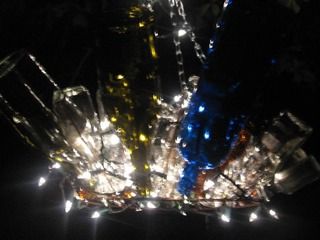 It's kind of blurry, but I like it.
The 100 light string of Christmas lights really shines nicely all throughout the garden. I ran an extension cord up in the tree so the plug is hidden and used the power source I already had in the garden for the bathtub fountain. It is awesome. And it's even more amazing because I made it with a really cool girl!
P.S. Please pray for my dearest Puck. She somehow broke her tail. (I didn't know that could really happen, but turns out, it's possible.) She's pretty funny on her pain meds, but she's not up to her usual shenanigans, so it's kinda depressing at the same time.