As I've stated before, Jared and I just bought a house and because the house is pretty big for the two of us, there is plenty of room for incredible things like this: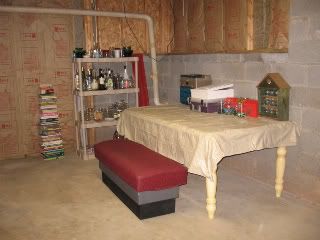 That, ladies and gentlemen, is what I am hereby dubbing as Crafty Space. And it is awesome. Contrary to what is shown on my storage shelves, I am not an alcoholic. Those are bottles I've collected for various craftiness. The table that my toolboxes and such are sitting on is a five dollar investment that my dearest Jared bought so I could craft on it. He's such a handsome enabler! That stack of books next to the storage shelves are only a small portion of my craft/garden books. I have serious issues. So, as you can see, I have basically the perfect set up going now! Now that I have this amazing space to work in, I plan on decorating it up with craftiness, so I'll keep y'all posted on that as progress is made!
Anyway, I hosted a small gathering of crafters (me, my sister, and my friends Melissa and Kim) and told Kim about my plan to make some earrings out of some lock washers that I may or may not have taken out of Jared's garage area...He's aware of the fact that they are now missing. Regardless, Kim was pretty pumped about that idea because she's going to DragonCon next year with her sister and they are going in steampunk costumes.
For those who aren't aware, Steampunk is the idea of the future in the past. Confusing, right? Imagine today's technology in victorian days. That's steampunk. Mechanical parts are a must, which makes these earrings perfect for their costumes!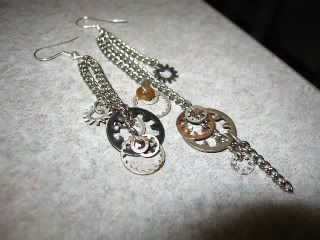 Basically, I used regular earring pieces that can be found at a craft store and bits of chain I had in my storage stash. The lock washers were, as previously stated, borrowed from Jared, and just connected to the chain with jump hoops.
They're pretty cool looking I think!